Sylvia is an experienced editor and has worked on a number of publications over the past twenty-five years. Some of these include: Red for Energy, a collection of new writing from County Wicklow, published by Wicklow County Council in collaboration with the Courthouse Arts Centre and Tinahely Women's Network.
For Wexford County Council, Sylvia edited the anthologies From the Hill of the Wild Berries, Darker, Later and the poetry chapbook As Ever, which she co-edited.
She collaborated with Nurse/Photographer Rory Nolan on the unique publication Climbing Mountains in our Minds, a collection of stories and photographs from the former St. Senan's Psychiatric Hospital in Enniscorthy, told from the patients' perspective.
Climbing Mountains in our Minds
"Climbing Mountains in our Minds is an inspired and inspiring work and one of the best examples I have seen of what community and healing arts can achieve. It is obviously the result of a long process of deep engagement between the leading writer, Sylvia Cullen, and the many clients of St Senan who have participated in its creation, sharing their times and their truths. Together they have created a book that will move and impress anyone who opens it."
Dave Lordan, Poet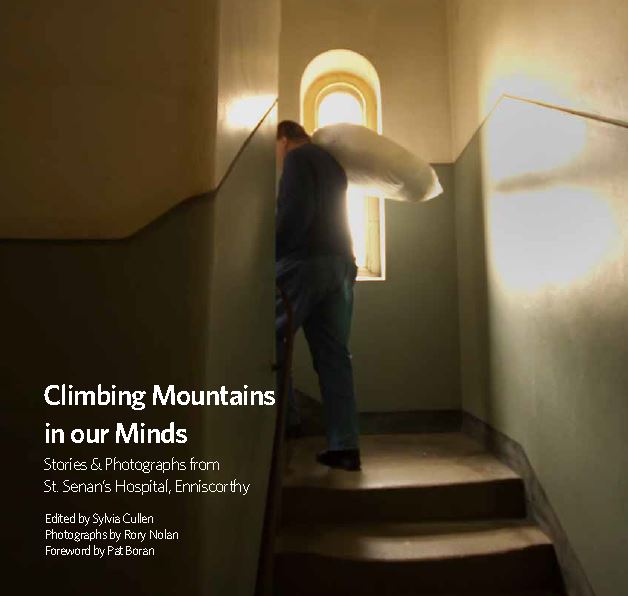 "The most diverting book that landed on my desk this year is called Climbing Mountains in our Minds. It's an astonishing collection of poetry, prose, photographs and archive material that preserves the memories of former inhabitants of St. Senan's psychiatric hospital in Enniscorthy, Co. Wexford… The book is full of significant small moments from voices that would otherwise have remained unheard… This is the kind of writing that stops you in your tracks."
Róisín Ingle, Writer, The Irish Times.
If you have any questions just fill in the form below
and I will get back to you within 24 hours